Operating portable
Many amateurs like to combine their love of the outdoors with their radio interests. Others find that antenna restrictions and interference from power lines, computers and pay television make operation from home difficult. For both these groups of amateurs, taking their equipment outdoors allows them to enjoy amateur radio even more than they could at home.
Well-organised amateurs have put together a station that can be assembled and taken portable at a moment's notice. A station may consist of a compact HF or VHF transceiver, sealed lead acid batteries (or lead acid batteries if the site is accessible by car), and a telescopic antenna mast (eg a squid pole). Alternatively one can use fishing line and sinkers to throw wire antennas high into a convenient tree. A good portable location can be a pleasure to operate from, with low noise levels on receive, and a favourable position on transmit. The good results capable with low power (QRP) along with the small batteries needed make QRP and portable operation a natural combination.
It's also possible to carry several sections of telescoping mast to support antennas like wire dipoles for HF, yagis for VHF. A technique I have used successfully for my VHF field antennas is to mount the entire mast onto a rotator, making it simple to erect the mast with antennas, without trying to lift a rotator into the air as it would be at home. In the rear of the following picture, behind the tent, you can see the second mast which supports a parallel fed 80/40 dipole, with the feedpoint at about 6m above ground. Combined with modern multiband radios working on all bands from 1.8 to 430 Mhz all you need is antennas, a power source, somewhere to house it all (and it will rain if you plan to operate outside), and food/water. Instant field day. See you in the next field day?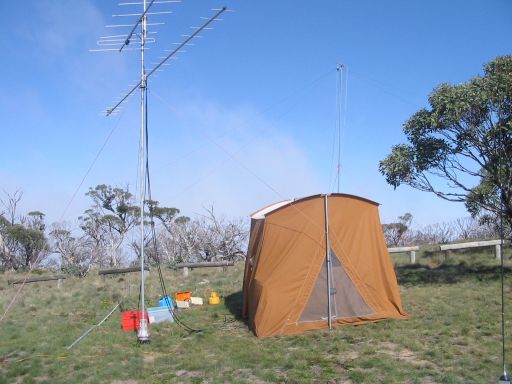 Next: SOTA